Lisbon, Portugal! I'm going to show you guys the best things that you have to do in Lisbon when you come to visit. So this morning, for example, before I did anything else, Clare and I went to get the best-known pastry here in Portugal: pastel de nata! I'm probably saying it really wrong, but I can tell you one thing: it is absurdly yummy! So "re coming with" us. These are egg tart tarts and they are the reigning queen of Portugal's pastry scene, for the right reasons! -So good. -Mmm, oh my gosh, better than I expected! We got these just about every day from various bakeries. They're astonishing. -That's some good crunch! -It's really good! Closest to our Airbnb was Baga Baga, offering Connor's favorite version. My favorite version, though. was in Bairro Alto, called Manteigaria. Oh…so warm from the oven. That's a good sign! Oh wow, this are likely to be my favorite. Super buttery, sweet, but not too sweet, and a nice carmelization. Do I have some on my teeth? I will dream of these for months to come. Probably the most famous pastel de nata bakery in Lisbon is Pasteis de Belem.
It was emphatically the least sweet; it was almost savory in its egginess! Don't get me wrong, though, I adoration this one, too. This was Clare's favorite version. So once you've gotten your pastry mend for the working day, you'll be enlivened to suffer the rest of the city! When you're ready to take a break from the city, simply hop on the public transportation and — bam — in 45 minutes you'll be at the beach! We had a beach day in Cascais. We're not very good at simply laying on the beach, this is why we rented some stand-up paddleboards. What I love about this kind of activity is the fact that it gives people access to see things and a part of the cities that you'd never get to experience otherwise.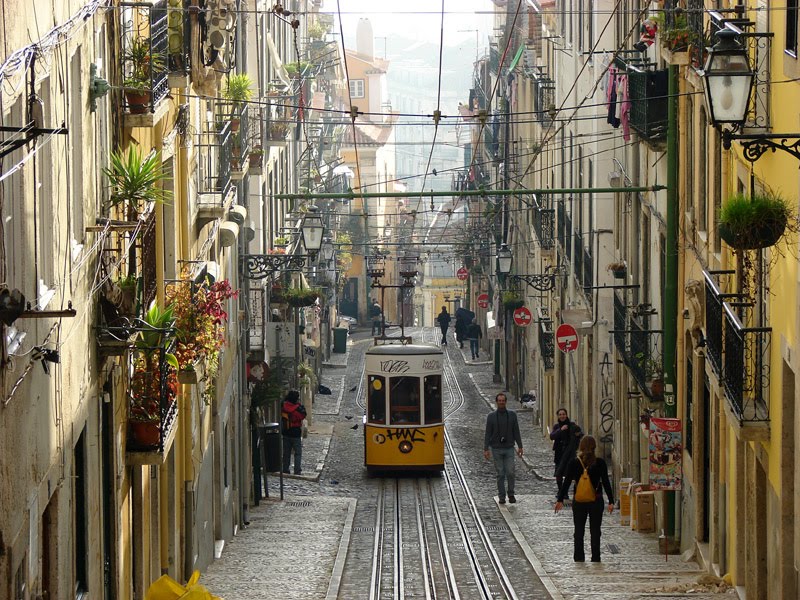 Another day trip we did was hiking from the far western side of Portugal( Cabo da Roca) into Sintra, a 9-mile hike. So we started here , now we're all the mode up here, and we're going to end here. -So why was Sintra worth hiking 9 miles to? Well, do you see this palace behind me here? Let me give you a better look. This is Pena Palace. It is actually like stepping into a fairy tale. Perfectly beautiful, and quite the end to our hike. Back in Lisbon, here's another tip for you: go grocery shopping at a local shop. I necessitate, if you're a foodie, you will find it endlessly fascinating. Pick up some pieces, then delivering them home and make a home-cooked banquet!* Fado music playing* -Do you guys enjoy this fado music? -Yeah! -It entirely specified the panorama!* corkscrew poppings* -Ta-da! Not merely is it nicer on the wallet than devouring out every day of your journey, but it can stimulate "youre feeling" — even if temporarily — like a neighbourhood. We lucked out with a pretty incredible rooftop at our Airbnb.
-Seriously though, our Airbnb is so sweet! -It's so sweet. -I could actually stay here for awhile. -Yep! Bring back all of our friends and family, -Yes! -…take them to all of our favorite Lisbon spots. Oh we had a few favorite smudges! I'll set the names of some eateries in the specific characteristics box below. The Portuguese go-tos of flesh and fish and cheese and olives were solid each time. Oh! But I need to tell you about this gelato place, Santini. It's a well known smudge for good reason! Seriously, some of best available gelato I've had in a long time. -We…we're not sure … -There's no signage for this Park Bar we hear of. -Either we are going to get mugged in a parking garage or going to a really cool saloon. -Either/ or…you know. -You have to go up through a parking garage … -Where are we? -But it was totally worth it. One of the better beliefs we heard in Lisbon was from the Park Bar rooftop! And what I like to do is take one meal and pretend I'm really fancy, so you are familiar, be posh for the day.
Today, it's Four Seasons Ritz — let's eat! Thanks to Four Seasons Ritz for establishing our luxury lunch happen, we were quite impressed. Connor and Clare, you two are the most incredible travel chums. Thank you for being my on-the-go production squad for this video and for being such all-around amazing humans. I love you guys. As always, people, keep it quirky! See you next week!